Upcoming Events
Every Monday starting May 30, 6:00 PM
I Dread Mon-dayz: Music, Food & Fun More info...
OC and NestaFest present evenings with DJ and live music, arts & crafts vendors, and Caribbean food by Jamaica on the Go in the Sokoto House's Shashamane Farm garden!
This event is open to all ages, but there is a $5 cover and bringing your own chair is encouraged.
Mondays, May 16, May 23, June 6, 6:00 PM
FAFSA Workshop More info...
Sokoto House will be hosting a workshop in partnership with the College Foundation of NC, MyFuture NC, and Our Future NC to help community members learn about and complete Free Applications for Federal Student Aid (FAFSA).
Each date is on a Monday and the sessions begin at 6:00 PM. The May 16 session was an introduction to FAFSA, May 23 was a session to complete the forms, and June 6 will be a follow-up and celebration!
Tuesday, June 21, 5:30 PM
2nd Annual Summer Solstice Show at the Arboretum More info...
This Sustainability Fashion Show will return to the Arboretum (6206 Oleander Dr. Wilmington, NC). Gates will open at 5:30 PM, and the show starts at 6:15 PM. Limited seating will be available upon request. Lawnchairs and picnic blankets encouraged! Keep checking back for ticket information!
Proceeds will benefit the Youth Empowerment Program at Sokoto House.
Concluded
Summer Solstice Show Designer and Model Meet & Greet More info...
Sokoto House held a meet and greet event for the designers and models for the upcoming Summer Solstice fashion show.
Concluded
Speak Ya Peace NC
Speak Ya Peace NC returned to Sokoto House to feature poetry and music.
Sokoto House had free food and fun activities for the whole family.
Hosted and organized by Keep Your Hands Off Me, Inc. at Sokoto House, and under instruction from Shihan White Owl, this class taught a couple of self-defense techniques for participants.
Sokoto House and HOPE hosted this free community event featuring food, fun, and fellowship!
Concluded
lcl presented: Completely Free Community Market More info...
Sokoto House and lowercase leaders held another Completely Free Community Market on March 5 and 6. Think yard sale, but everything was free!
Regularly Scheduled Programs
First Sunday of each month, time TBA
Just Us Girls with HOPE More info...
Brenda Galloway and HOPE hosts a support gathering for young mothers from the community. See hope218.org for more information.
Mondays, 9:00 PM
African Islamic Traditions Class More info...
Abdullah leads classes on African Islamic traditions
Every Other Saturday (starting 04/23), 10:00 AM - 12:00 PM
Qigong in the Garden More info...
Head to our QiGong in the Garden page for signup and donation info. A $5 minimum donation per session is requested.
Fitness and spiritual health sessions open to the community, led by 53+ year martial science professor, Master Shihan Mwalimu White Owl.
Latest News
Featured Endorsements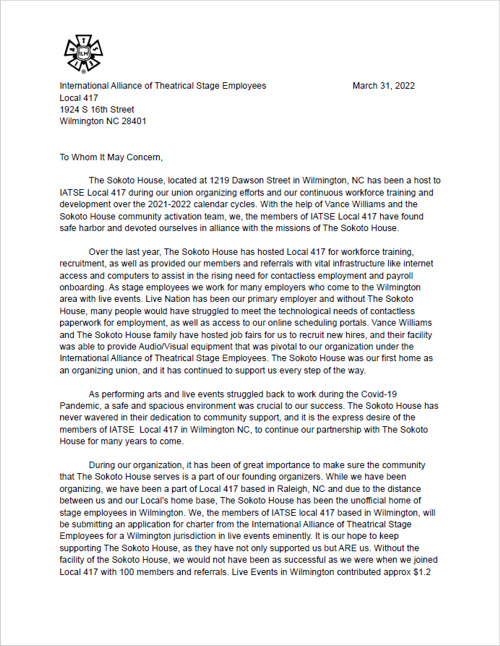 Sokoto House has been recognized by the International Alliance of Theatrical Stage Employees Local 417 as a valued partner organization.
The Sokoto House, located at 1219 Dawson Street in Wilmington, NC has been a host to IATSE Local 417 during our union organizing efforts and our continuous workforce training and development over the 2021-2022 calendar cycles. With the help of Vance Williams and the Sokoto House community activation team, we, the members of IATSE Local 417 have found safe harbor and devoted ourselves in alliance with the missions of The Sokoto House.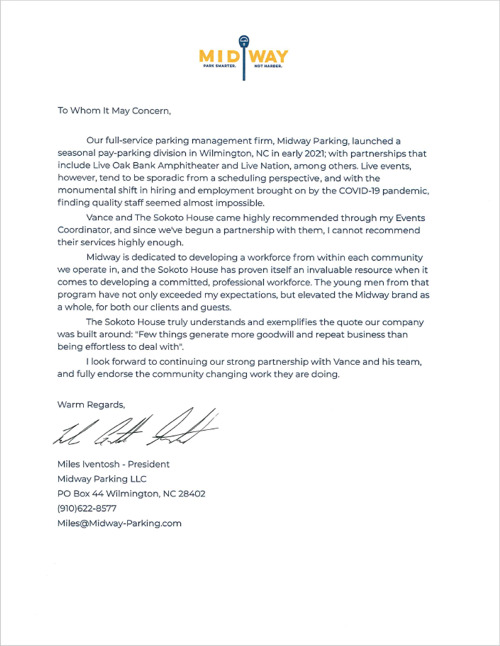 Vance and Sokoto House has also been endorsed by Midway Parking, LLC as a valued partner.
Vance and The Sokoto House came highly recommended through my Events Coordinator, and since we've begun a partnership with them, I cannot recommend their services highly enough.
Shout Out!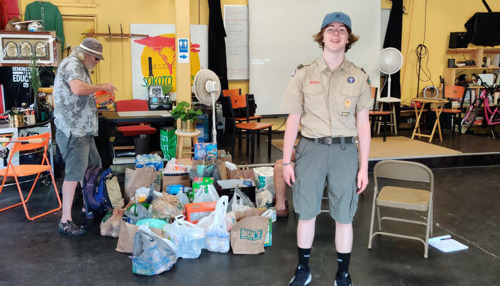 A big thank you to Jackson, a Scout with Troop 224, for the food drive he organized and led. These food and hygiene items will be distributed to members of the community in need.
CCCVPS Initiative
Sokoto House is the headquarters of the Cape Fear's Comprehensive CommUNITY Violence Prevention Strategy (CCCVPS), an initiative principally coordinated by Quality Life Blueprint, Advance Youth Outreach and Lily Nicole Nichelle.
CCCVPS is an initiative and implementation plan based on successful, evidence-based curricula to benefit the community as a priority, as well as address New Hanover County's acknowledgement of racism as a public health crisis and provide a solution to answer the City of Wilmington's call to action through the Rise Together Initiative.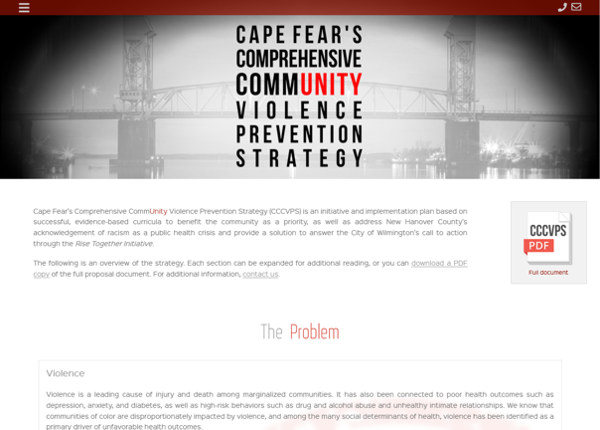 Gallery
Photos from many events and programs are now available on our Gallery page!