Upcoming Events
Click or tap on any event for more details.
Mon, Jun 21, Gates open at 5:30 PM
Sustainability Fashion Show at the Arboretum More info...
A fashion show and pop-up market to celebrate the beginning of summer and the sustainable options for summery accessories we have here in Wilmington.
This event takes place at the Arboretum, and all proceeds support the Sokoto House. General admission is $20. Friends, volunteers, and existing donors of Sokoto house are $10, and children 12 and under are free. Head to the Eventbrite page to purchase tickets (click the Register button on the page to get started).
Sokoto House hosted a benefit concert and fish fry for the lowercase leaders to support their members, Tim Joyner, Lily Nicole, and Josh Zieseniss, as the district attorney attempts to bring charges against them.
A musical tribute to Bob Marley featuring Kingston artist Jah Bruce live at Sokoto House. Food and craft vendors were present.
Concluded
African Dance Explore Orientation Class More info...
Instructor SheaRa Nichi at Sokoto House teaches traditional indigenous dances of the continent, including Afro-Caribbean, Haitian, and Afro-Brazilian. This class is meant for everyone, at all skill levels, because we all heal as a community!
Concluded
Enhancing Brotherhood Dinner & Discussion: A Rededication to Family, Community, & Self-Preservation
Concluded
Public Event - Let's Talk: Healing with Foods More info...
SheaRa Nichi hosted a free presentation at Sokoto House on healing with foods as part of total health and wellness.
We held a livestream introduction to Brenda Galloway and Shihan White Owl, two of our active Community Health Workers in Violence Prevention, and some discussion about their histories in Wilmington. Watch the video on our YouTube channel!
[NOTE: Due to technical difficulties, the livestream didn't actually go out, but the video is now available on our YouTube channel] A Facebook Live presentation and discussion of our visions for placemaking improvements for Sokoto House's outdoor area. Featured plans and design by Keana R. Graham and Sheri Chisholm. Watch the video on our YouTube channel!
Hosted Events
The Sokoto House hosts a variety of events, some regular and some unique, but all to the benefit the participants, our community, and the free and healthy exchange of ideas and knowledge.
Take a look at our Gallery page to see photos from recent events!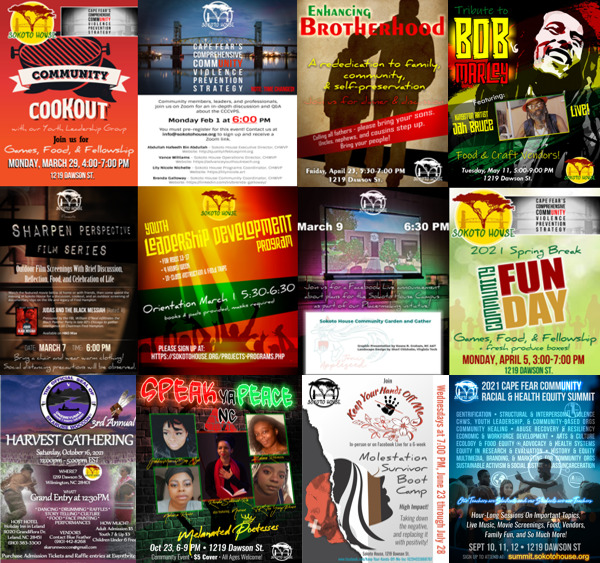 The following are a few examples.
Ecology Project

The Ecology Project included meet and greets, various local vendors, ecology activists, keynote speakers, and short films, as well as a Black Lives Matter solidarity and neighborhood cleanup march.
Free Community Markets

These recurring events, organized by the Lowercase Leaders, feature an open market of donated goods that are all free to the community. Think of them as large yard sales where no money is needed.
Outdoor Movie

Lowercase Leaders held a free outdoor screening of Wilmington on Fire, a documentary about the 1898 Wilmington coup and its aftermath, as well as a Q&A session with the filmmaker, Chris Everett of Speller Street Films.
Nights of Renaissance

Periodically, Sokoto House holds a Night of Renaissance, where people meet to experience and take part in sincere intellectual exchange, culture, art, music, and food. An open mic, healthy connections, and good vibes in a drug and alcohol-free environment are featured.
Audio services for many Sokoto House events is supplied by Keith Sweezy of Sweezy Sound Systems.