Community Health Worker Violence Prevention Professional (CHW-VPP) Training Course
Get Professional CHW-VPP Training!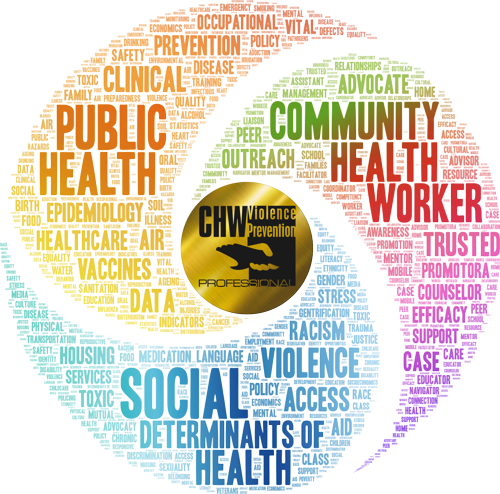 Our CHW-VPP Training is a one-of-its-kind comprehensive course that seeks to equip and activate community professionals with public health upstream thinking and methodology to prevent structural and interpersonal violence. This training is based on Oregon's Non-Traditional Health Worker curriculum and first adapted with the lens of violence prevention during the CDC's funded national initiative, Striving to Reduce Youth Violence Everywhere (STRYVE), Multnomah County 2011-2016.
Abdul Hafeedh Bin Abdullah (curriculum designer) received over 2000 plus hours of direct in the field training of the NTHW training provided by principal designer of Oregon's NTHW curriculum, Dr. Noelle Wiggins, who was also the Principal Investigator of the Portland STRYVE program.
Basic Training Objectives:
Increase knowledge of participants (existing CHWs or new CHWs) in Public Health upstream strategies to prevent structural and interpersonal violence
Increase capacity of CHWs to understand and support communities disproportionately impacted by adverse structural and social determinants of health
Increase the number of community professionals able to be employed to mitigate the harms of communities disproportionately exposed to violence and other SSDoH
Increase capacity of CHWs to be effective bi-directional liaisons and advocates on behalf of communities they serve and systems that employ them
Course Info:
Fall 2022 Course began in the August 22 (enrollment is now closed)
Next course will be offered in early 2023
60 hours hybrid format - 40 hrs in-person, 20 hrs online
6 hours per week, 10 weeks total. Monday, Wednesday, Friday (2 hrs. per class)
15 participant limit
Principal Trainer: Abdul Hafeedh Bin Abdullah
Partnering Organizations:
Scholarship Fund:
We try to accomodate those with difficulty affording the training tuition with a scholarship fund. If you would like to contribute to this fund, use the button below.
Meet Our Inaugural Graduates!
If you are interested in learning more about this course or are considering enrolling, please us the contact form below. Be sure to note your interest in the comment field. We will reach out to provide more information.