Community Health Worker Violence Prevention Professional (CHW-VPP) Training Course
Get Professional CHW-VPP Training!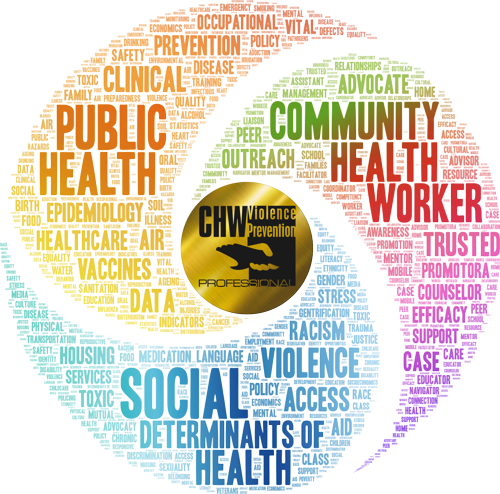 Our CHW-VPP Training is a one-of-its-kind comprehensive course that seeks to equip and activate community professionals with public health upstream thinking and methodology to prevent structural and interpersonal violence. This training is based on Oregon's Non-Traditional Health Worker curriculum and first adapted with the lens of violence prevention during the CDC's funded national initiative, Striving to Reduce Youth Violence Everywhere (STRYVE), Multnomah County 2011-2016.
Abdul Hafeedh Bin Abdullah (curriculum designer) received over 2000 plus hours of direct in the field training of the NTHW training provided by principal designer of Oregon's NTHW curriculum, Dr. Noelle Wiggins, who was also the Principal Investigator of the Portland STRYVE program.
Basic Training Objectives:
Increase knowledge of participants (existing CHWs or new CHWs) in Public Health upstream strategies to prevent structural and interpersonal violence
Increase capacity of CHWs to understand and support communities disproportionately impacted by adverse structural and social determinants of health
Increase the number of community professionals able to be employed to mitigate the harms of communities disproportionately exposed to violence and other SSDoH
Increase capacity of CHWs to be effective bi-directional liaisons and advocates on behalf of communities they serve and systems that employ them
APHA Policy 20227: A Strategy to Address Systemic Racism and Violence as Public Health Priorities: Training and Supporting Community Health Workers to Advance Equity and Violence Prevention
For more insight into the CHW-VPP training and support strategy, you can read more information and the actual APHA policy, co-authored by Abdul Hafeedh Bin Abdullah.
Course Info:
The Fall 2023 Course will begin September 28
60 hours hybrid format - in-person and online sessions

IN-PERSON: Thursday-Friday, September 28-29 from 9AM - 5PM

ONLINE: Monday-Tuesday-Wednesday, October 2-4, from 12PM - 3PM

ONLINE: Monday-Tuesday-Wednesday, October 9-11, from 12PM - 3PM

IN-PERSON: Monday-Tuesday, October 16-17 from 9AM - 5PM

IN-PERSON: 6 hrs at the Sokoto House CommUNITY Racial and Health Equity Summit, October 20-22

INDEPENDENT STUDY HOURS: 4 hours in October

8 participant limit
In-person Location: Sokoto House Cultural Hub and Community Center, 1213 Dawson Street
Online Platform: Zoom
Principal Trainer: Abdul Hafeedh Bin Abdullah
REGISTER TODAY for the Fall course!

For registration questions, contact Rachel at rachel@qualitylifeblueprint.org or (910) 232-0997

For curriculum questions, contact Abdullah at abdullah@qualitylifeblueprint.org or (971) 373-2947

2023 Training Info Session


Download the accompanying presentation (PDF)

Partnering Organizations:

Scholarship Fund:

We try to cover costs of tuition for all participants with grant funding, but if you would like to contribute to our scholarship fund, please use the button below. It all helps!

Meet Our Inaugural Graduates!

If you are interested in learning more about this course or are considering enrolling, please us the contact form below. Be sure to note your interest in the comment field. We will reach out to provide more information.